Guest column: A good moment at Kinistinâw Park
---
You're bummed out. I get it. I'm bummed out, too. The pandemic is emptying out our happiness accounts and running up a deficit of glum. I should not speak for everyone. City Councillor Andrew Knack, I swear, has never had a bad day. I deeply resent that about him 🙂
At any rate, it is a wonderful day in the Ward 6 office when we get an email from a constituent with a positive message. A constituent from the Boyle Street Community shared this lovely story with me. I asked, and they agreed to allow it to be published on my blog. Please enjoy ….
Last Saturday, my husband took our two daughters to Kinistinâw Park to play after a Farmers' Market/ice-cream run, while I was at work. When they arrived, an older couple had set up a speaker and was using the boardwalk to practice their two-stepping. Meanwhile, another dad and his young daughter were playing on the rubber hills. The three girls hit it off right away and the dads exchanged contact info for future playdates. During their conversation, plans for a new Boyle Street playground came up. The other dad, who also lives close by, volunteered to help with the project. While they were talking, a couple in their 20s, who came to the park via the 96-Street bike lanes, hopped off their bicycles and were soon seen dancing alongside the older couple. In the course of an hour or two, this space saw music, play, new friendships between neighbours, volunteer engagement, active transportation and spontaneous, intergenerational recreation. We're going to spend a lot of time here.
Kinistinâw Park is located on 96 street between 102 and 103 avenue. Check out this gorgeous image of the park at night: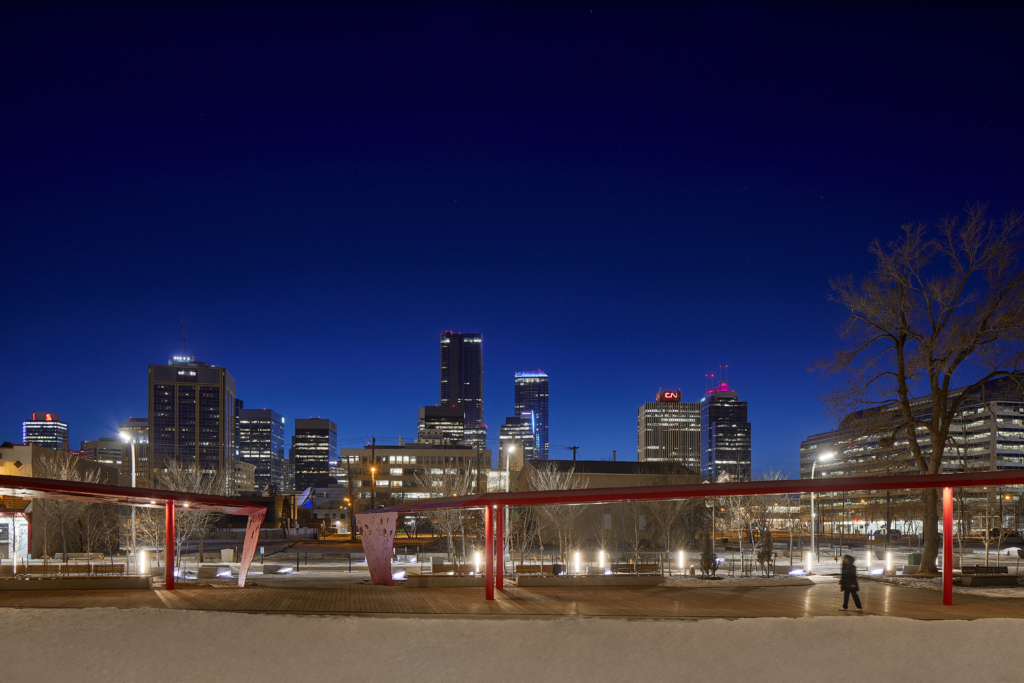 I hope this story inspires you to get out and Explore Edmonton!
Credit for both photos goes to Adam Borman.