SEARCHING FOR MAIN STREET
---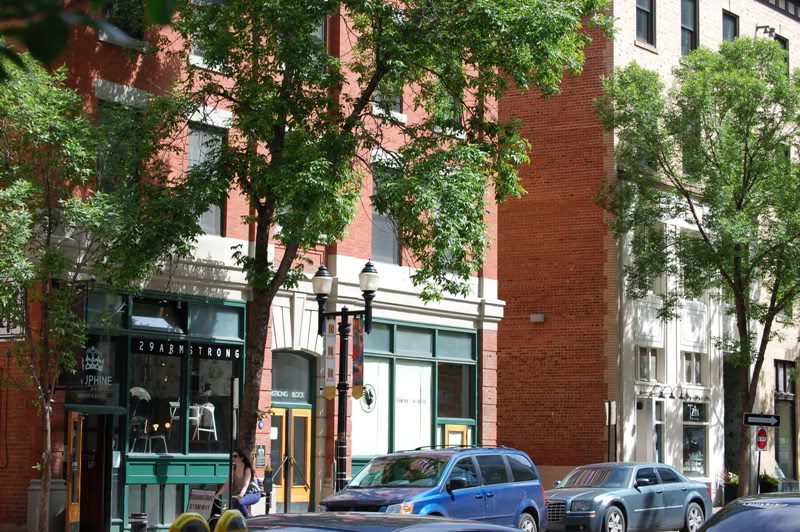 I use this phrase, urban experiences, to describe why I live in Oliver, next door to downtown.
What are urban experiences? At one point I would have said they were hip, cosmopolitan, artsy — sort of a jazz-club, cafe culture kind of thing.
I've come to realize: A) I'm seriously not that cool or cosmo' to fit in such places; B) The thing I was chasing wasn't so urban as it was folksy.
I missed people when I lived in the suburbs, even though we had lots of friends, fellow soccer parents and community league volunteers.
But bumping into those people took scheduling and planning. The suburb we lived in, like most suburbs, is designed to create a sense of privacy and tranquility. Front garages allow people to access their homes without stepping outside.
There's no coffee shop on the street. Or barber shop or little restaurant. Homes are set way back from the sidewalk. Few homes have front verandas.
In the suburbs, you typically get in to your car and drive to things and people. By the way, I was raised in the suburbs and raised my kids in the suburbs.
The suburbs offer a unique lifestyle from urban neighbourhoods. This lifestyle is not better or worse, so let's not have a debate, please. These are choices. Ward 6 is chock-full of livable, mature, urban neighbourhoods close to our core.
At any rate, well designed urban spaces cause us to meet and bump into each other. They are people-watching spaces. And now, at this point in my life, I love them.
Below is a piece I wrote for The Edmonton Journal about living in a loft downtown. Much of the interest I received afterwards focused on a family living in, what was essentially, one big room.
But what I wanted people to take from it was that the urban experience I'd discovered wasn't tres cool or uber hip. It was the 'feel' of a small town main street on Saturday afternoon.
That, to me, is fascinating. That what we really want, when we talk about urban planning and design 'best practices', is a return to the village of our dreams.
Writer's Note: This story, below, mentions my wife Julie, who is now my ex-wife Julie. We are not only co-parents of three great kids, but good friends.
–
Loft living — a cool family thing: Leaving the suburbs to make a home in the downtown 'village'
Edmonton Journal
Saturday,  November 13, 2004
By Scott McKeen
EDMONTON – You'll need foam earplugs. You can buy them at the hardware store, in packs of about a dozen.
Headphones are good, too. A number of pairs, in fact, for the television, stereo and computer. Sanity wise, an indoor fountain, to create soothing "white" noise, is advisable.
Then you'll need a few curtains, for privacy; lots of art to cover all that wall space; a number of wardrobes and dressers to replace closets; and a serious commitment to ridding yourself of 90 per cent of the junk currently stored in your garage, basement and attic.
Do all of the above and you, too, can move your family into a downtown loft. I'm not kidding. We did it. We moved into a loft space early last spring and no family member, to date, has been scarred, either physically or mentally.
I should mention there are five of us: me, my wife Julie and our three progeny — Jennifer, 17, Molly, 15 and the boy, Matt, 13.
Let me repeat this because some people still don't believe it. Yes, we are a family of five and we moved into an open-design loft condo in downtown Edmonton.
So far, no one has freaked out, fainted, died or unwittingly come across a family member naked or otherwise engaged in an activity they'd rather not know other family members engage in, ever.
So far.
We lived for almost 20 years in the burbs. We essentially raised our kids in the burbs. The burbs are fabulous, especially for raising kids. But I always felt a pang — a sense that we were missing out on something.
A trip to New York a few years ago — the ultimate urban experience — heightened this feeling. So when we started looking around for a new home last winter we focused on neighbourhoods around downtown.
I jokingly told our realtor, Rene Bladon, we'd also like to look at lofts. I laughed at the time — ha, ha, ha — so my wife wouldn't think I was being serious. So we looked at a few houses, then Rene played the joke back on us.
She showed us a loft in a historic building on 104th Street downtown. It was too small, but it was beyond cool, so we spent hours trying to figure out how we could snuggle our family into it. We couldn't.
A few days later she showed us a neighbouring loft in the same building. It was almost 2,000 square feet, had two full bathrooms and a layout that was semi-divided, though there were no bedrooms or bedroom doors.
To make a long story short, we mortgaged ourselves to the hilt and bought it. We became lofters — urban chic, albeit without the really cool furniture, cars, clothes or attitude.
Oh well. We learned one really cool trick to dial up our bohemian quotient. You don't need to buy art. The Edmonton Art Gallery rents art. So does Pauline Ulliac, a local artist of undiscovered talent. Right now, we have several of Pauline's vibrant and graceful Edmonton streetscape paintings on our walls.
I met Pauline through her boyfriend Russ, who I heard about through John and Rima. John and Rima run the Blue Plate Diner, which is only a few steps from my new front door.
I sometimes eat at the Blue Plate Diner. Often I'll just grab a book or magazine and head down to sit and read amidst its funky, soulful charm. The Blue Plate's coffee is dark and rich; the experience of sitting in that room is like being in Soho or Greenwich Village.
I met Reza through John and Rima, too. Reza is a hairstylist and runs a tiny shop next to the Blue Plate Diner. Upstairs is June, who hems and mends clothes.
Reza has given me several column ideas. June did a real cool job on one of my hats. I now need the hat because Reza gave me the confidence to shave my head completely bald.
Down the street towards Jasper Avenue is Dale, owner-operator of the Whole In The Wall Cafe. I love Dale's food. But I also like the fact he's a highly opinionated news junkie who knows civic issues.
Down the other way, away from Jasper Avenue, is the Boardwalk. It now houses the Saturday farmers market. John Hall is the market's volunteer overseer and he and I have become friendly, too. Same with the couple who run Latin Delights in the Boardwalk, where you can get one of the city's finest sandwiches.
Francis lives in my building. He's an artist and photographer. I've met several other tenants, too, including Barry, Diana, Brice, Amy, Archie and Finnegan. The latter pair are canine residents. It seems like everyone in my building has a dog in a sweater.
If you're looking for a business opportunity, you could do worse than a high-end pet shop — cashmere doggie fashions? — to serve lofters on 104th Street.
Here's the point I'm trying to make with all this name dropping: in several short months I've made more friends downtown than I ever believed possible.
In the 'burbs you get to know people through your kids. But downtown you meet them on the street or in their shops. In our part of downtown there are almost no chain stores and almost all the places are owner-operated. If you do business in these shops and restaurants, you get to know the owners.
You walk in, they wave at you and come over and talk. It's funny, but this is the closest you'll get in an urban setting to the feel of an old-fashioned village. Who knew that downtown was the place to reconnect to small-town culture?
I haven't said much about our loft because I don't want to sound pretentious. It's a nice place — 12-foot ceilings, exposed brick, hardwood floors, stainless steel appliances, Jacuzzi tub, air conditioning, gated parking, exposed ducts, big timbers.
But I mostly love where it's located — downtown. It's nice down here. The traffic isn't bad after rush hour. The streets are starting to fill with life. I can walk to good restaurants, to the main library, to the art gallery, the Winspear Centre. The City Centre cinema is a two-minute walk. We can also walk to shopping, even for groceries.
I don't have to shovel my walks. I don't have to cut any grass. When the garbage or recycling needs taking out, I don't have to store them in a garage. We've got dumpsters out back.
On a recent day, my wife Julie threw a garbage bag into a dumpster, only to hear a grunt. Turns out one of the street people was inside, hunting for bottles.
"Oh My God, SORRY," yelled Julie. The man popped his head up. "No problem ma'am, happens all the time," said the guy, with a courteous wave.
Another time, while standing at the back door with a bag of garbage, Julie was actually offered help by another street person.
"Don't worry about us people back here," said the gent. "We won't harm you."
Yes, even Edmonton's downtown street people are friendly. Who knew?
You may still be wondering how three kids and two parents live in what is essentially one big room. Well, those earphones and earplugs, curtains and fountains all help.
But here's the other trick: we interact as a family. We are forced together, so we actually spend time talking, watching TV together, eating together, doing different things in close proximity.
Yes, we have our moments of tension. But there are other times — when we're all in the same room, when we're all talking, when there's genuine laughter — that I think we as a family couldn't get much closer.
Well, maybe if we'd bought the smaller loft.
(Photo Credit: Ian O'Donnell)