SUPERVISED INJECTION SERVICES – AN EXPLANATION
---
City council's role in bringing safe injection to Edmonton was not well understood.
Council members were asked to vote only on sending a letter of opinion. The majority on council agreed to support safe injection. But we were never told if the opinion carried any weight with the decision makers, the provincial and federal governments.
City council was viewed as the driver of the decision. Wrong. In fact, council has no authority over health care. But the city was prodded to get the letter done promptly as the opioid crisis was, properly, demanding government response.
My vote to support safe injection was one of the most agonizing this term. I knew it would upset residents of Ward 6, especially those who live in the neighbourhoods that host homelessness and chronic street addiction.
But the evidence provided to Council supporting the local safe injection strategy was compelling; that it would save lives in this city's most vulnerable sub-population.
Ironically, the letter of opinion demanded of city council in May is no longer required for a supervised injection application. Finally, senior orders of government recognized that municipal government is not responsible for health services.
But Edmonton's application was made under the old rules. So city councillors asked the applicants specifically about the impact on neighbourhoods. The evidence was clear: safe injection services will result in less public injection, needle debris and social disorder.
Residents of McCauley, Boyle Street, and Central McDougall have approached me steadily this term to improve strategies for needle collection.
The prominence of public injection and unsafely discarded needles in core communities is due to historic links between poverty, homelessness and outreach services in housing, health and food.
Drug and alcohol addiction are often the underlying cause of homelessness. Mental illness, trauma and tragedy are often the underlying reasons for addiction.
Chronic addiction is not a matter of moral failing. People in excruciating and chronic pain will seek relief, desperately. They will share needles They will inject drugs they know might kill them. They will drink hand sanitizer from a portable toilet, because it contains alcohol.
That's why it is critical to make supervised injection services available to the most desperate, isolated citizens of Edmonton — people who are homeless, or poor and living in sub-standard housing.
The evidence presented to council was clear. Higher rates of overdose deaths are found in low-income neighbourhoods. Between January 2016 and March 2017, there were seven deaths in Boyle Street, three deaths in McCauley and five deaths in Central McDougall. (Source: Alberta Health: Health Standards, Quality, and Performance Opioids and Substances of Misuse, Alberta Report, 2017 Q2)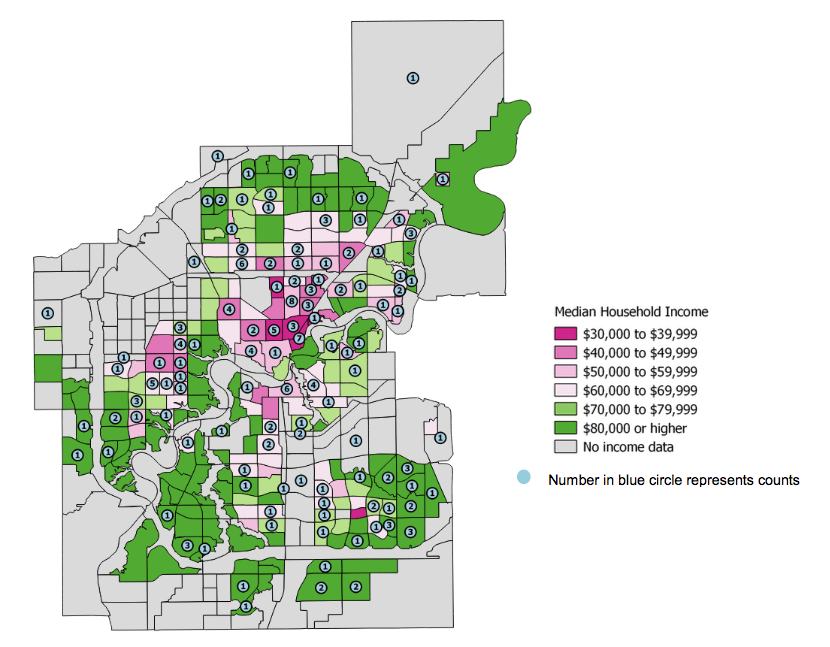 Alberta Avenue, with 8 overdose deaths in the same time period, would likely also benefit from safe injection services. The same can be said for the Whyte Avenue area, as well as the vulnerable neighbourhoods along Stony Plain Road.
Overdose deaths occur all over the city. But people living outside challenged neighbourhoods tend to overdose in their homes. No evidence exists to suggest that those people would use safe injection sites.
What I do know is that the proposed model — three small sites housed in existing outreach facilities, with supports in housing and health — is a made-in-Edmonton approach. It will save lives. It will begin to break cycles of homelessness and addiction. Because the three sites will operate at offset hours, any side effects will be dispersed and minimal.
Edmonton Police Services has also committed to me and others that free passage will be given to people who need safe injection services. But drug dealers and other predators will be challenged and arrested, if necessary.
My motion before council will also result in a community oversight committee. Simply put, safe injection services in Edmonton will not look anything like Vancouver's.
Our commitment is that Edmonton's sites will operate, quietly, and not disrupt residential and business neighbours, while they save lives and compassionately help our most vulnerable citizens to a better way of life, off the streets.
SOURCES:
Alberta Health's Quarter 2 2017 Opioid Overdose Surveillance Report
By Scott McKeen, City Councillor Ward 6