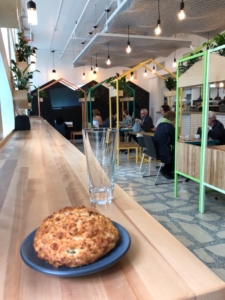 A great scone is a mouthful of beauty.
Soft and buttery on the inside … with a crisp outer crunch … a great scone is enough to steer someone onto the righteous path.
Speaking of righteous, Kids in the Hall, the restaurant cum vocational school inside City Hall, is no more.
Sob.
Long live The Hallway, the 2.0 version of Kids, with a fresh design, ultra-modern kitchen and a continuing commitment to uplifting the lives of at-risk youth.
The Hallway's emergence is still not well known, sadly. The food is fabulous and the prices fit for a public servant suffering three reductions in his pay over the past couple of years.
Sob.*
But even I can afford The Hallway's scones, which come in at least two different varieties each day.
I often go with the berry-and-white chocolate scone with a side of peanut butter, because peanut butter goes good with everything.
There is also a cheddar-jalapeno version. It is great too, with the righteous amount of buttery-ness and crisp crunch.
If that weren't reason enough to try The Hallway, it also features $10 pizzas from a flaming oven — the Blazing Bazil Bird, for example, features marinated chicken, Brussels sprout leaves, Havarti cheese and basil cream sauce — as well as $9 breakfast plates.
And much, much more.
The Hallway is open weekdays from 7:00 to 3:30. Sometimes they run out of scones. You've been warned.
* That city council members have received three separate decreases in pay over the last three years is the result of a council salary review, a federal tax change and an inflation formula on which Edmonton political pay is based. I am not really complaining. Just whining into the wind, which always responds: "Hey, you wanted the job, so quit your blubbering." Even the wind is cynical about political remuneration. Sob.
By Scott McKeen, City Councillor Ward 6